ScreenMark
Marks a spot on the computer screen.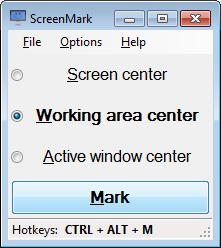 Made for Curt from donationcoder.com.
Original thread: Re: Show Center of monitor screen
Source code: ScreenMark @ GitHub
Targets Microsoft .NET framework v4.5 (Native to Windows 8+)
Notes:
v0.1.0:
Marks screen center.
Marks working area center.
Marks active window center.
Hotkeys on CTRL + ALT + M.
Always on top.
Set pen color.
Set pen width.
Set mark size.
Set draw interval.
Day #120, Week #17 @ April 30, 2021
==========
RELEASE SPONSORS:
Jesse Reichler (A.K.A. Mouser from DonationCoder.com)
Your name here? 🙂
You may support this project by expressing your excitement in the form of a Donation via DonationCredits, Paypal @ www.paypal.me/victorvls or by becoming a Patron @ www.patreon.com/publicdomain.
Thanks & keep on rocking!
==========
Enjoy more releases @ our website: https://publicdomaingift.com
Version

0.1.0

Downloads

49

File Size

122.66 KB

File Count

1

Create Date

April 30, 2021

Last update

2021-04-30 13:11:07

Last Updated

May 1, 2021