JustCloseSomeTasks is a utility to let you easily close inactive tasks. It saves taskbar space by offering you to close the stuff you've not used for a while. Tasks are automatically marked for closing when they're not used for a certain time period (expiry time). The program will learn your behaviour and adjust this expiry time.
I use a lot of programs, and many at the same time. Because of this when a lot of windows are open the taskbar becomes cluttered  and I lose the overview required. JustCloseSomeTasks knows which programs I've not used and helps me manage.
Screenshots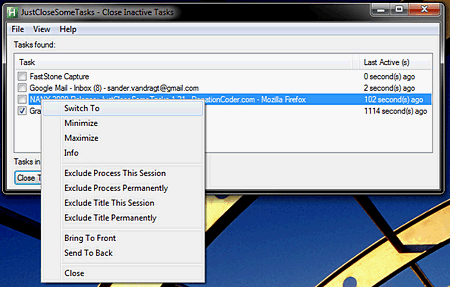 Usage
Installation
Portable installation, DcUpdater support via help menu
Using the Application
Press the hotkey button (Ctrl-[ by default - change via system tray -> preferences) and all windows are listed with the ones older than 120 seconds checked. press the close button to close these tasks. The program will learn and adjust the auto-marking period based on your usage.
Discussion, Support & Feedback
Support on this program is available on the DonationCoder forums. You can also use this place to discuss new features or any issues. See JustCloseSomeTasks Discussion Thread.
Version
Downloads

164

File Size
File Count

1

Create Date

January 28, 2018

Last update

2018-01-28 23:50:27

Last Updated

January 28, 2018