The software on this site is free for personal and individual commercial use. If you are interested in commercial site licensing of my software, please contact me.
If you've found my applications useful, and are in a position to donate, you can do so here. The amount of your dontation is up to you and is very much appreciated. If you are not in a position to do so, please continue to use the software with my compliments. Thank you.
There are three ways to donate:
1. Paypal.  The first way is through PayPal via the PayPal image below.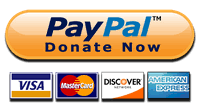 2. DonationCredits.  Sign up at DonationCoder and send me some DonationCredits by clicking Cody, our bird mascot, below:

What are DonationCredits? A DonationCredit is the unit of currency that you can use in DonationCoder's micro-donation system. There is never a fee or commission levied on Donation Credits, and you are encouraged to use your credits generously to reward the software authors and review writers on the DonationCoder site, or just to show your appreciation to the author of a forum post you particularly like.  Learn more.
3. Bitcoin.  Send your Bitcoin donation to: 38w9aTRxCVAD6VWMUoAdBrCc1bs9cJKTRK