There are several ways to create a new profile:
1.

Click the

toolbar button.



2.

Choose the

File > Create profile

menu entry.







3.

Right-click the

Profiles list

and choose

Create profile

from the menu.






In the Add profile dialog that appears, specify a name for your profile. Ensure the name is unique and do not use any of the following characters: * ? " : < > | / \


Your new profile will appear in the Profiles list.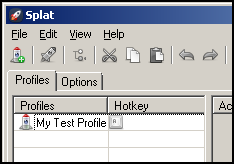 Selecting the profile enables the Action list for that profile.