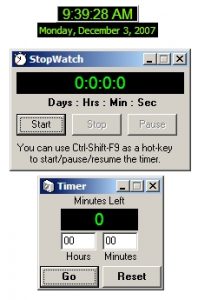 DClock 2 is a desktop clock that is small enough to fit over the titlebar of an open window and always stays on top. Perfect for people that keep their taskbar hidden.
It has a number of customizing options and an assortment of time related tools.
Features include:
Timer
Stopwatch
ToDo List
System Uptime
Hourly Chime
and more!
If you would prefer a portable clock, suitable for carrying on a USB thumb drive, try the original DClock 1, instead.
Version

2.5.0

Downloads

35

File Size

1.01 MB

File Count

1

Create Date

February 26, 2006

Last update

2006-02-26 14:52:15

Last Updated

September 20, 2021